Villa Layout
Ocean's Edge is a two-storey villa with staircases leading up from the hallway and the kitchen to a wraparound upper-floor balcony and three of the bedrooms.  The ground floor comprises a double bedroom, an air-conditioned lounge and furnished hallway that connects verandas at the front and back of the villa, one of which has ocean panoramas and the other, views of the swimming pool.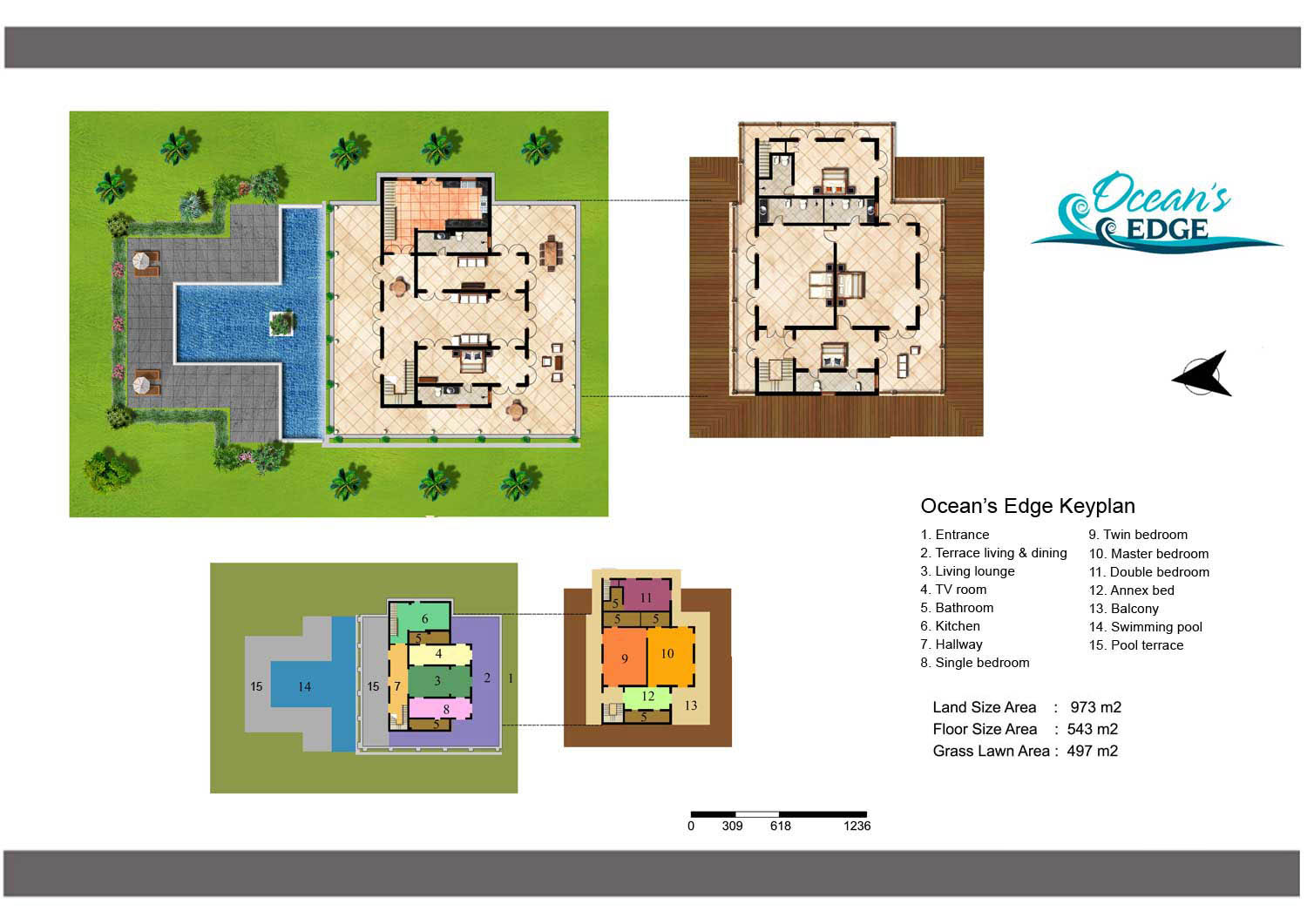 Download in high resolution
Living areas

Ocean's Edge is blessed with many serene spots for living and dining.  These include two sizeable verandas linked by a spacious fan-cooled hallway elegantly furnished with a pair of built-in sofas and a coffee table.
The rear veranda, overlooking the swimming pool, is an informal area sprinkled with planters' chairs and a table with bench seating for up to eight.  The more formal front veranda basks in views of the villa's lush green lawns and of the azure Indian Ocean.  Here, the dining table for eight is the prime venue for formal dinners, while a cosy cluster of rattan chairs is ideal for curling up with a book.
Leading off from the hallway is an elongated, air-conditioned lounge with 42-inch satellite TV and DVD player, a squashy white sofa and an ensuite bathroom.  Arched doors connect it to the front veranda.
The kitchen is tucked to the side of the villa, equipped with an oven, hot plates and a microwave.

Bedrooms
The four air-conditioned bedrooms at Ocean's Edge are very spacious.  Each has polished cement floors, high vaulted ceilings, comfortable four-poster beds and far-reaching views of the garden, the swimming pool and the ocean.  A wraparound balcony links the three upper-floor bedrooms, and the fourth opens onto the garden.  A baby cot with mosquito net is available and can be positioned in any room as required.

This upper floor Master bedroom is a hugely generous space equipped with a queen-sized four-poster bed draped in soft mosquito netting, a squashy sofa and an ensuite bathroom with shower.  Oriental wardrobes stand to either side of the room whilst arched doorways spill onto a wraparound balcony furnished with rattan loungers facing seawards.  Attached, and also opening onto the balcony, is a small air-conditioned room furnished with a daybed, a wall-mounted TV and bulging bookshelves.  This smaller room has a separate bathroom fitted with a tub.

Guest Room 1
Guest Bedroom 1 interconnects with the master bedroom and has an ensuite bathroom with twin showers.  This spacious room is furnished with a queen-size and a single four-poster bed as well as a duo of oriental wardrobes.  A pair of arched doorways leads onto the wraparound balcony, revealing views of the pool and garden.
Guest Room 2
Also on the upper floor, Guest Bedroom 2 is tucked to the side of the villa, accessed via the wraparound balcony or a staircase from the kitchen.  Furnished with an antique four-poster queen-sized bed, it overlooks the garden and ocean and has an ensuite bathroom with a shower.


Guest Room 3
Located on the ground floor, just off the villa's central hallway, Guest Bedroom 3 is furnished with an antique four-poster queen-sized bed draped in soft mosquito netting, and is also fitted with a single divan bed (suitable for sleeping an extra child).  Attached is an ensuite bathroom with built-in cupboards and a shower.